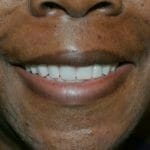 Our custom dentures and same day dentures are a popular option for patients who have lost some or all of their natural teeth. We make custom Temecula dentures that precisely fit the patient's mouth and provide excellent comfort and functionality. The doctors at our Promenade Mall area practice offer both partial and full dentures, combining advanced dental implant technology with custom prosthetics for the best possible fit, stability, and lifelike appearance.
Partial custom dentures or Same Day Dentures
Partial dentures are an option for patients who have lost only some of their teeth. Partial dentures are durable and are adequate replacements for missing teeth. When properly fitted, the dentures are almost impossible to distinguish from natural teeth. We make partial dentures so that they correspond to the size and shape of the patient's mouth. We also match the color of the new dentures to the patient's existing teeth to provide a natural look that is aesthetically pleasing.
Full custom Temecula dentures or same day dentures
For people who have lost all of their teeth, full dentures or custom dentures are ideal. With full dentures supported by dental implants, patients can have a new full set of teeth. Implant-supported full dentures restore the ability to eat favorite foods and to speak and laugh comfortably. Full dentures look like natural teeth. We ensure this natural look by matching them to the size and shape of the patient's mouth. Full dentures also maintain jawline definition, and the implants prevent the bone loss that inevitably occurs with traditional dentures.
Temecula Adult Braces
Adult braces can straighten your teeth, line up your jaw for a better bite, space out teeth that are crowded, and close gaps. Over the last few years, we have seen more and more adults recognize the benefits of adult braces. We are open to meet with you to discuss your concerns before you commit to dental correction. We recommend that you understand the costs, benefits and time commitment to get the perfect smile.