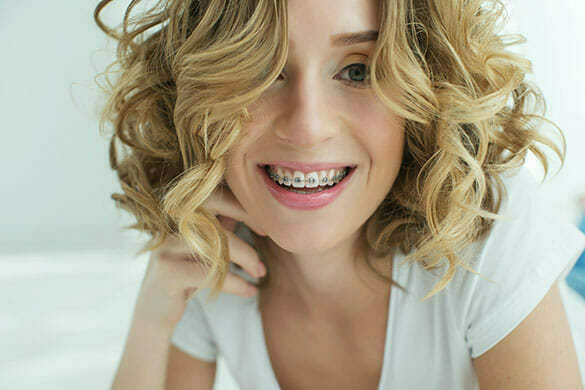 Wearing braces is not just for kids! Adults find that straight white teeth help in all areas of their social and professional lives. Promenade Temecula Dentist can help adults straighten their teeth. Adult braces bring out better and structured smiles. These days there are options that make braces for adults inconspicuous. They are called clear braces, invisible braces or braces for adults. The popularity of adult braces keeps getting stronger.
Several years ago it was quite rare to see adults opt for braces, but technology today has enabled people to get clear braces that can go undetected to non-prying eyes. It helps adults get more comfortable with the idea to get braces.
Further, the braces are more than just for aesthetic solutions. It is not just to make you look more pretty when you smile. Well-formed set of teeth are also easier to clean and take care. There are also fewer chances for germs and cavities to form with fewer nooks and crannies. They can help close off the wide gaps between teeth where the germs thrive the most.
Braces are also used for more serious dental procedures. Adults might need the assistance of braces when they are trying to find solutions for missing teeth, or patients might need to have some space opened, or bone to be built up for implants. Adult braces can be used in more complicated matters. An example is using braces for forming the base for prosthetic work.
Having crooked teeth can be painful as well. They might hinder your ability to eat, speak or move your mouth. They might cause pain when you move your jaw. They might even cause you to bite yourself when you are not careful. Braces can be used for such cases to fix those problems.
Going out in public with adult braces is no longer a problem anymore. These days the braces for adults are barely noticeable and do not stick out like in the past. They work by gently applying steady pressure to the teeth to move and to fall into a proper structure.
They mainly have three components: brackets that are placed on every individual tooth, a bonding that fixes all the brackets to the teeth and an archwire that connects all the brackets.
There are different options available for adult braces.
Tooth Colored Braces: These have the same color as your teeth. They are practically invisible to the eye. They do not grab people's attention and are far less intimidating. They do however stain pretty easily.
Clear Braces: These braces are transparent. They are also practically invisible and go undetected by non-prying eyes. They are some of the best options to choose from if you are more concerned about the looks people might give you if you wear braces.
Metal Braces: These braces are made of stainless steel. They are much more precise, and they can be built small. These braces are built to fit in tiny places or areas where other braces cannot reach.
Gold Braces: These braces are also made of stainless steel, but they are further coated with a paint of gold. These are flashier versions of the braces and is built for people who do wish to flaunt their braces. These kinds of flashy braces are more popular with the younger people than with, the older ones.
Clear Aligners: These are braces that can be removed anytime for cleaning, eating or brushing purposes. They are barely noticeable and should be worn for around 22 hours a day. However, the negative aspects of clear aligners are that they can require high maintenance as it can be difficult to keep them hygienic for the mouth after they are taken out. They can also stain pretty easy for people who drink coffee, wine or eat a lot.
Lingual Braces: These braces are placed on the interior side of the teeth. Because of this, the braces are always hidden from the public eye. Hence, for people who are extremely sensitive about their image and the looks they might receive, Lingual braces are a terrific option.
Braces can be a lot more complicated matter for the adults than for the kids. Children have thick gums which makes it easier for dentists to work with the braces. As we get older, our gums get weaker and start to recede. We also lose some of our bones. That is why orthodontists have to work with patients' general dentists when they add adult braces. This ensures that they keep track of the patient's gums and dental problems.
Braces for Adults are Now Affordable at only $2995!
These days, people have to wear braces for a lot less time than before. It can be as little as six months or can go for up to 17 months. It all depends on how much work the dentist needs to do on an adult's mouth. Since teeth keep moving even after the braces are taken off, some people choose to opt for applying retainers for life.
Don't waste any more time. Call Promenade Temecula Dentist today at (951) 296-3011 to schedule an appointment for adult braces. We are known as the best and most affordable braces for adults near me. Promenade has many ways to help improve your smile so call today or read our recent press release about adult braces and braces for adults.
See the press release about Temecula Adult Braces and the Six Month Smile.